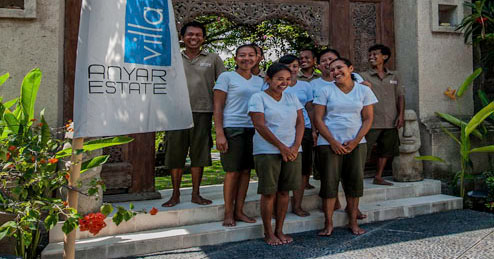 Estate Manager: Manik Martinna(speaks Excellent English)
Estate Maintenance Manager: Eko(speaks English)
Estate Maintenence: Tohir(speak Little English
Two Cooks: Komang and Kadek(speak English)
Two discreet gardeners and pool maintenance guys: Kadek and Nur work within the gardens but if complete privacy is required advise the Manager (speaks English & keeps a hand phone….)
Four Maids: Putu, Wayan, Ida , Mus(speaks English & keeps a hand phone….)
Two Night Security guys: Putu & Made(speaks English & keeps a hand phone….)(speaks English and keeps hand phone for contact purposes)
Staff
The cooking staff arrives at 8am ready to cook you breakfast, squeeze you a juice, brew you a coffee and they finish their day at 4pm. The housekeeping staffs arrive at 9 am to make up your room, and do general gardening and pool maintenance and finish their day at 5pm.. We have a team of 14 staff. all of which wear a name badge to help you remember their name. The cook can stay longer to assist you with dinner if requested.
Laundry
Each bedroom has a basket for you to place your laundry in. If you have delicate items, or there is a possibility of any items that may shrink or run, please advise Housekeeping on the form provided. If your garments have gone for washing in the morning they should be back to you by the next evening. If you need something in a hurry, again please advise Housekeeping. Whilst every care will be taken with your clothes, we regret, we can not take any responsibility for any items not washing up to your expectations. Any items taken to the laundry will be billed at the end of your stay.
Broadband Internet:
The villas have broadband wireless internet access. Network key codes will be supplied on arrival.
Electricity
The Estate is powered by the main power grid and supported by own 124kw backup generator in case of power failure.
Anyar Estate Transport
Pak Kus is Anyar Estate's own driver, he speaks good English and drives a Toyota Fortuna. This vehicle will seat seven passengers in comfort. Car and driver rental rate is USD$75.00 per day and the period is 8 hours per day, any hours required beyond this time will incur an additional charge of Rp60,000 per hour and billed at the end of your stay.
We can arrange a motor scooter for you for your stay, which is great fun, give you heaps of independence, and are a great way to get around. A scooter will cost you about Rp50,000 a day and includes helmets. We highly recommend that you obtain your international motor bike license first – however even if you don't have one and get pulled over – it generally only means a slightly higher fine (expect to pay about Rp50,000 for whatever you have or haven't done!)
Finally, we can also arrange the hire of some bicycles for your stay. The roads are generally flat and easy enough to peddle around. It shouldn't take more than 30 minutes to peddle into the hustle & bustle of central Seminyak – and is easy enough to find your way back.
Food & Drink
Anyar Estate's Cooking Service
This service is included with your villa, you can do your own food shopping or Iluh or Kadek will organize for the shopping to be done for you. They can prepare many delicious Indonesian and Western cuisine's, many of our guests like to have their dinners organized for them. The cooks are available for serving at the villa from morning until afternoon. If they are required to work more than eight hours per day then the guests at Villa Anyar are asked to pay her an overtime rate of Rp60,000 per hour.
Other choices for dinner include stoking up the BBQ, ordering in. Alternatively, there are hundreds of restaurants all within a 15 to 20 minute taxi ride, particularly along Jalan Legian and Jalan Oberoi.
We also highly recommend Echo Beach Club on Echo Beach, Canggu, which is a fantastic surf beach for locals and tourists alike. Echo Beach Club is open from 8.00am until 11.00pm 7 days a week, and is great for breakfast, long lunches and fresh seafood BBQ's served right on the beach every night. The sunset drinks at 5.00pm are a great way to end the day, and Sunday night's feature live music.
Echo Beach Club
Located at Echo Beach. This restaurant delivers cold crates of beer & can supply a diverse range of wines & spirits. Echo Beach Club also delivers food to your door. Open from Breakfast till dinner. The staff know Villa Anyar
In House Entertainment
Anyar Estate is equipped to receive more than 50 international television channels with a home movie surround sound system incorporating a DVD player.
Personal Stuff Privacy

The staff start work at 9:00 am, if you require complete privacy please advise Manager, and they will organize with yourself a suitable time for the staff to clean the villa and swimming pool.
Baby Sitting
The Balinese adore children and are excellent babysitters. Just ask the Manager to organize either a full time nanny or one or two of the day staff to stay on late for the occasions when you go out day or night. For evening babysitting the charge is Rp60,000 per hour for each member of staff which will be billed at the end of your stay.
In House Entertainment
Anyar Estate is equipped to receive more than 50 international television channels with a home movie surround sound system incorporating a DVD player.
Massage
If you require a massage from our local massage company, Please advise the Manager in advance. She will organise someone to come at the requested time, cost start from Rp150,000 per hour,then it's up to you for what you feel is a fair tip. There are also many spas to visit – to name a few, Jari Menari – fantastic massages, body words – manicures, pedicures & cream baths & Glo Spa – manicures, pedicures, facials & waxing's.
Health Care
If you require the service of a doctor ask the Manager, he will arrange a time for you to go to the doctors or for a house call.
Bali International Medical Clinic (BIMC)
telephone : (+62) 361 761263
Wine & Beer Delivery
Echo Beach Club
+62 85100474604
Fantastic location, right on the beach at Canggu's famous surf beach, Echo Beach Club. Come & listen to the DJ or band & watch the sunset on Friday & Sunday afternoons. A large & tasty menu
Address:  Jalan Pura Batu Mejan, Canggu, Kuta Utara, Canggu, Kuta Utara, Kabupaten Badung, Bali 80361
The Plumbers Arms
+62 851 0044 9132
Famous for their Sunday roasts & Wednesday night quizzes. The pub has a beer garden with a dart board & pool room including a bottle shop with a great selection to take away
AddressJl. Raya Banyar Anyar No. 8, Kerobokan, Kuta Utara, Kerobokan, Kuta Utara, Kabupaten Badung, Bali 53164
Gastro Pub
A local village Gastro Pub in Bj. Anyar. Only 1.5km away from Anyar Estate. Famous for their Sunday roasts
Tel 085100449132
Address Jl. Semer, Bj. Anyar
Reservations Ring to book your table or simply turn up
Won.kys
The best Chinese Food in Bali, take away & delivery or eat in at The Plumbers Arms
Tel 0878 62282983
 Address Jl. Raya Banyar Anyar No. 8, Kerobokan, Kuta Utara, Kerobokan, Kuta Utara, Kabupaten Badung, Bali 53164